We sat down with the OG Queen of Masking, Martha Kalifatidis to chat about her love for Aceology.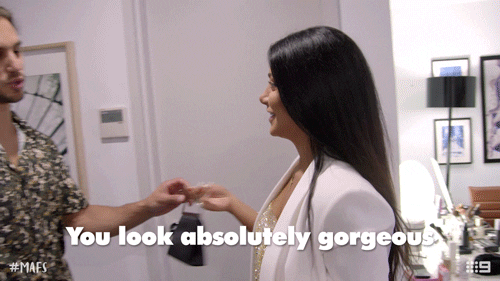 The Bondi based influencer first rose to fame via her 2019 appearance on Married at First Sight, where she met her partner, Michael Brunelli. Since then she's established an authentic connection with her audience by being unabashedly herself. Drawing on her skills as a makeup artist, she celebrates her love for BS-free beauty with her 303,000 loyal followers who religiously double-tap every new post on her feed. 
So, here's Martha IRL:  

Can you walk us through your daily skincare routine?
Always start with a shower... yep I shower before the gym. Depending whether on my skin I'll either do an oil cleanse or a deeper cleanse with something like a rice cleanser. 
Then I'll apply my serums and creams and always a very liberal application of sunscreen on my face, neck and chest. If I don't have an event or filming there's a very high chance I won't be wearing any makeup at all! Bliss.

What's a (typical) day in your life usually like?
Well there are no typical days. I like to get up slowly. I usually have a lot of emails to go through as there is usually some back and forth involved when your making content for brands. Also I spend a lot of time editing videos, something I haven't mastered yet. 
What skincare products do you think every woman should own, and why?

Sunscreen! The sun in Australia is cruel and we need to do our best to protect ourselves. It doesn't matter if your skin tone is naturally dark, big misconception. Dark skin needs protection too, our sun is unforgiving. Both Michael and I have super olive complexion and we both are religious about our sun protection. 
We say the couples who face mask together, stay together ;) Has your BF Michael jumped on the Aceology bandwagon?
He is actually worse than me these days when it comes to skin care. Meaning that he has a longer beauty routine than I do. Often I'll walk into the bedroom and he'll be lying in the bed with a mask on in a towel. Quite stunning.
Opa! You often reference your Greek heritage, how do you feel your background has shaped your self-confidence?
Last year when I went to Greece I was in awe of how confident the women were. Regardless of there size and shape they wore their bikinis proudly, and carried themselves with confidence. I think going back as an adult who still battles body image insecurities I was truly inspired. I think here in Australia we live in a fitness crazed culture, over there I didn't notice many super buff guys or girls. Bodies looked very natural. It was refreshing! 
But I do think I'm very lucky because Greek culture is heavily based around food so being voluptuous really just goes hand in hand. 
Where's the funniest place you've ever face masked? 

Oh I'll mask anywhere. I often sit around a hotel pool with a sheet mask on, the staff look at me like I'm crazy.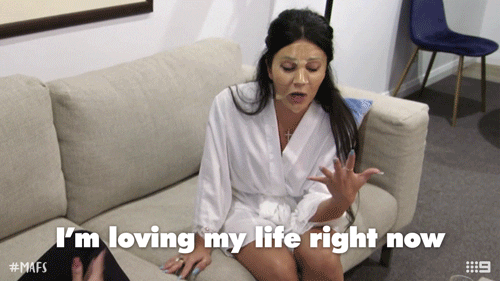 What is the best piece of beauty advice you've ever received?

My mum has always been obsessed with oils, for the face, body and hair. She has always used them on herself and given them to us to use and I can honestly say that they are the most nourishing thing. I couldn't live without them in my beauty routine. Everyone needs a face oil. 
What's one surprising thing people may not know about you? 

People have this idea of me based off of what they have seen on tv, which is fair considering that's how they "met" me. It will come as a surprise to a lot of people who don't know me that I'm super laid back. Most days I'm in a tracksuit and an old Harley Davidson T-shirt, slides and no makeup. I'd rather eat salad biscuits with a cup of tea and sit on the floor at home and watch movies then go to a boujiee loud restaurant. 
Who do you love following on Instagram?  
Really random health and wellness accounts like @alkaline_vegan_news 🤭 and @holisticali hahah I'm too embarrassed to name them all but I love reading about holistic health and nutrition. 
What's your favourite Aceology product? 
My all time fave is the Green T. Infusion Gel Mask!Hands down the best one, especially chilled!
You recently posted about our Cheeky Butt Mask Trio, do you think it's an important addition to your beauty regimen?  
Using a butt mask to me is just as important as getting a pedicure! Especially in summer time when I'm living in a bikini but also great for winter to keep that area hydrated.