We've all been there. You arrive at after work drinks with the best of intentions – just one wine, maybe two! – only to wake up the next day looking like death warmed up.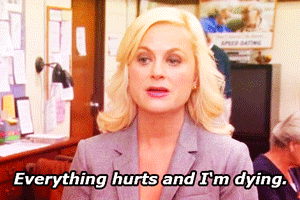 You've got this.
It happens. However, the show must go on.
Fortunately, there are a few fail-safe ways to make the sins of last night less visible by 9am. Here, how to hide the tell-tale symptoms of a hangover (dehydration, bloodshot eyes, a dull complexion) when lying in bed all day isn't an option:
Step 1. Coconut water
When you wake up after a big night on the town, your head will be throbbing and your mouth with be drier than the Sahara Desert. You're dehydrated. The solution? Rehydrate, fast, by sipping on coconut water.
Coconut water works wonders on a hangover, thanks to its high levels of antioxidants and electrolytes, specifically potassium. However, not all supermarket-bought coconut water is created equal; be sure to check to the label to make sure the product you are buying is 100 per cent coconut water and free from sugar and any other additives.
Step 2. Eye drops
Bloodshot eyes are one of the tell-tale signs that you had too many glasses of Pinot Gris last night. Fortunately, there's an easy solution at your local chemist: eye drops.
For approximately $20, you can pick up soothing eye drops that will support and lubricate dry eyes, making yours appear less bloodshot. Got an extra 20 minutes up your sleeve? Pop on an Aceology Anti-Aging Gold Eye Mask for good measure. It's a much less awkward alternative to keeping your sunnies on inside.
Step 3. Face mask
Your whole body is parched right now – including your skin. To bring your sorry ass and shrivelled-up face back to life, fake a facial at home before work. While doing a mask in the AM may feel a bit extra, it's the quickest way to invigorate tired skin.
In 30 minutes, Aceology Anti-Aging Gold Modeling Mask smooths, lifts and illuminates, giving dull skin a new lease on life. Trust us, this ultra-hydrating formula delivers a hit of moisture that your dehydrated face will drink right up.
Remember: you can mask and multi-task. While Anti-Aging Gold Modeling Mask is working its magic, you can potter around the house, making lunch, choosing an outfit and preparing for the day ahead.
Step 4. Illuminator
Makeup-wise, illuminator is your best friend when you're feeling sub-par. Add a dash of shimmer to the high points of your face (the top of your cheekbones, brow bones and cupid's bow) for a lit-from-within glow that will make you appear 'done'. Or, at the very least, more human than you did when you woke up.
Step 5. Coffee
Right. So, you've rehydrated with coconut water; minimised your bloodshot eyes with eye drops; brought your skin back to life with a face mask; and added a bit of glow with highlighter. The only thing left to do? Down a double-shot of coffee and get on with it. Go on! Get going! You've got this. If we could high-five you, we would.